The rental business provides many different entry points for people with varying levels of experience and capital. You can go big or start small, depending on what you're looking to rent out. These rental business ideas could be just what you need to launch your next business or start making some extra money on the side.

High-End AV Supplies and Cameras
Audiovisual supplies can range widely in quality and features, and price points can keep occasional users out of the market. While the average consumer might not have an everyday use for high-end projectors, speakers, and more, an AV inventory rental business will see plenty of traffic from events, conferences, parties, and more.
The same goes for a camera rental business. High-end cameras are prohibitively expensive, but so is hiring a photographer. 
Many people will choose to rent cameras instead, letting them take their own professional photos for special events and trips. Both cameras and AV supply rental businesses have a relatively accessible entry point for newcomers.
Learn More About Building an AV Rental Business
All Kinds of Construction Equipment and Vehicles
Anyone who has a bit more capital and infrastructure ready to commit to their business could consider the lucrative construction equipment rental business. Both individuals and businesses will have a sporadic need for equipment once in a while but couldn't possibly justify purchasing equipment to be used once or twice.
Construction equipment rentals fill that niche, providing anything from cranes to compressors to dump trucks and more. This rental sphere is a very broad category, so you could get started with something as simple as portable generators, pumps, and lighting equipment rather than investing in trucks and loaders right away.
Learn More About Building a Construction & Heavy Equipment Rental Business
Attractions for Children's Parties and Other Events
Whether for school carnivals or birthday parties, there is a wide range of inflatable games and rides, along with other activities, that event rental businesses can provide. This industry provides a relatively low entry point compared to potential earnings, although it can be highly seasonal depending on your region.
Bounce houses, bouncy castles, or whatever you'd like to call them are an incredibly popular attraction for children's parties and other events. With a wide range available from manufacturers, including water-based inflatables, you can accumulate an inventory that will be sure to have something for any customer who comes looking.
Learn More About Building a Party Rental Business
Hand and Power Tools for Niche Applications
Homeowners and contractors can often run into jobs that require a very particular tool. However, these tools could be hundreds or thousands of dollars, and they only need them once. Tools rentals can provide a high-margin business with relatively limited overhead.
The inventory of tool rental businesses can range widely. Many focus on flooring and other home renovation equipment like floor strippers, tile cutters, saws, and more. There are also chainsaws and wood splitters, compactors and concrete mixers, compressors, pumps, and countless other potential inventory items.
Learn More About Building a Tool Rental Business
How To Improve Your Tool Rental Business Profitability
Safe and Reliable Scaffolding and Ladders
Scaffolding and ladders are important elements in construction and home improvement that homeowners and many businesses only need occasionally and will rent instead of buying. Scaffolding rentals can be for weeks or months at a time, depending on individual projects.
You can find scaffolding available in many different styles with varying degrees of assembly required. A versatile scaffolding system can allow you to provide solutions for any of your customers' needs with interchangeable parts and modular construction, casting a wide net without requiring excessive rental inventory.
Learn More About Building a Scaffolding Rental Business
Weddings are typically the most lavish and luxurious events that people hold, and they need a wide variety of rentals to pull them off. While there are, of course, wedding rental venues, those looking for a lower entry point can provide some of the other essential rentals that weddings need.
Weddings need tables, chairs, décor, cutlery, glassware, and more. Many who have weddings outdoors require tent rentals. These large tents can be used for a wide variety of other outdoor events as well, making them a great rental business idea that people in many industries could find useful to have in their inventory.
All Kinds of Boat Rentals
If you're near the water, boat rentals could be the most profitable rental business for you. There are many different types of boats that you can rent out, which means that this idea can work for business owners with a wide range of capital availability. By building inventory, you'll be able to provide rentals to a broader range of customers.
Kayaks, canoes, and rafts are always popular and are a relatively minor investment to get started. Eventually, you could expand to motorboats and fishing boats that carry a higher price tag but will also bring in much higher revenue. Pontoon boats are another favorite among boat rentals.
Learn More About Building a Boat Rental Business
Costume rentals are another business idea that can cover a very broad range. While you might be thinking about Halloween costumes, there are many other niches that costume rentals are needed to fill. Of course, a range of Halloween costumes and supplies will be an important part of the business.
A variety of mascot costumes is also a great inventory idea, providing rentals for children's parties and other events. You can also stock a variety of period costumes for themed parties, and of course, you'll likely need a range of Santa costumes for the holiday season.
Exciting Power Sports Rentals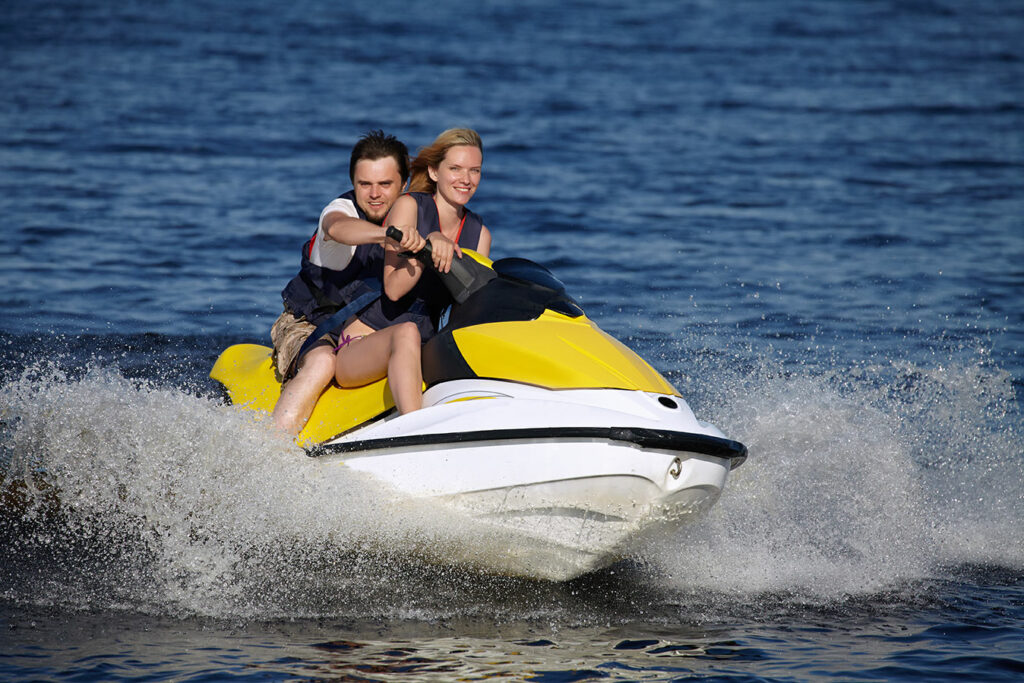 One of the most adventurous types of rental businesses is power sports vehicles. There's a wide range of vehicles to rent out, from motorcycles to jet skis and more. There are many different types made for different terrains, and you can identify which is most likely to become profitable rental equipment in your specific area.
ATVs are a great choice anywhere with extensive trails or other areas where riding is possible. In addition to dirt bikes, street bikes rentals are also popular and could be the right choice, although renting street-legal vehicles carries certain legal requirements. 
There are also all kinds of more niche vehicles like side-by-sides, gators, and more that can fill out your inventory.
Learn More About Building a Power Sports Rental Business
Roll-off Dumpsters and Other Waste Management Equipment
While it might not be the most glamourous, roll-off dumpster rentals can be among the most profitable commercial equipment business ideas. This business involves large dumpsters ranging from 10 to 40 cubic yards, roughly 14 to 22 feet long, that are dropped off at homes or worksites and picked up when filled for disposal.
These dumpsters are durable and long-lasting, meaning you'll have a long-term investment. 
You'll have to look into the economics of bulk waste disposal in your local jurisdiction to find out what services you'll be able to offer, but most companies provide construction and renovation waste removal, yard waste removal, and sometimes hazardous waste removal.
Learn More About Building a Dumpster Rental Business
Renting portable toilets, also called "porta-potties," is one of the most profitable rental business ideas out there. These portable chemical toilets are needed all of the time for many different reasons. While you certainly see them at all kinds of outdoor events, they're also used in the construction industry every single day.
The cost of the portable toilets themselves is relatively low, thanks to their efficient molded plastic construction. However, an important point to remember is that a portable toilet rental business will require specialized vacuum truck equipment to drain waste from the portable toilets, which can be a significant investment.
Recreational Vehicle and Trailer Rentals
RVs and camper trailers are the preferred way for many to take their vacations. They're also expensive if they aren't going to be used very frequently, so there are always people looking for RV and trailer rentals. Your business can provide for that need with different types and sizes of RVs, trailers, vans, and more.
Most RVs are going to be Class A or Class C, with Class C being the largest on the road. Both provide great experiences and could be just what your customers are looking for. Tow-behind trailers are always popular as well, and camper vans are a rising trend that can provide a great camping experience for a limited party of people.
Make Renting Easy for Your Customers With Quipli
Quipli is a comprehensive eCommerce platform for all types of rental businesses. With a straightforward layout, effective search tools, and user-friendly navigation, Quipli will present your inventory to potential customers in a way that makes them more likely to find what they're looking for. 
Quipli makes it easy to manage your invoices, orders, and more directly through our platform as well. Book a demo with Quipli to find out how we can help your rental business today.
Learn more about how to build a successful equipment rental business with our rental business guides and resources.